WARNING
IN THIS ARTICLE I WILL BE DISCUSSING TAKING THE COVER OFF AND ALTERING THE WIRING OF EQUIPMENT THAT OPERATES AT 240 VOLTS. THIS IS NOT AN INSTRUCTIONAL ARTICLE, IT IS JUST A SUMMARY OF WHAT I DID. IF YOU CHOOSE TO DO THIS YOURSELF, YOU DO SO AT YOUR OWN RISK AND SHOULD BE CONFIDENT THAT YOU KNOW WHAT YOU ARE DOING. YOU WILL ASLO LIKELY VOID ANY WARRANTY!!
New Amp!
I recently purchased a new amplifier to replace my venerable but ageing Pioneer A400. It served me well but despite the rave reviews back in 1990 I have to accept that was was great back then is probably a bit mediocre by todays standards. I already had a Cambridge Audio CXN media streamer which has a perfectly good digital pre-amp, so I went for a Nord One MP NC252 250W NCore based amplifier. No need to spend money on a bunch of stuff I didn't need! Colin North at Nord Acoustics hand builds all the Nord gear, great service and always at the end of the phone, I can highly recommend.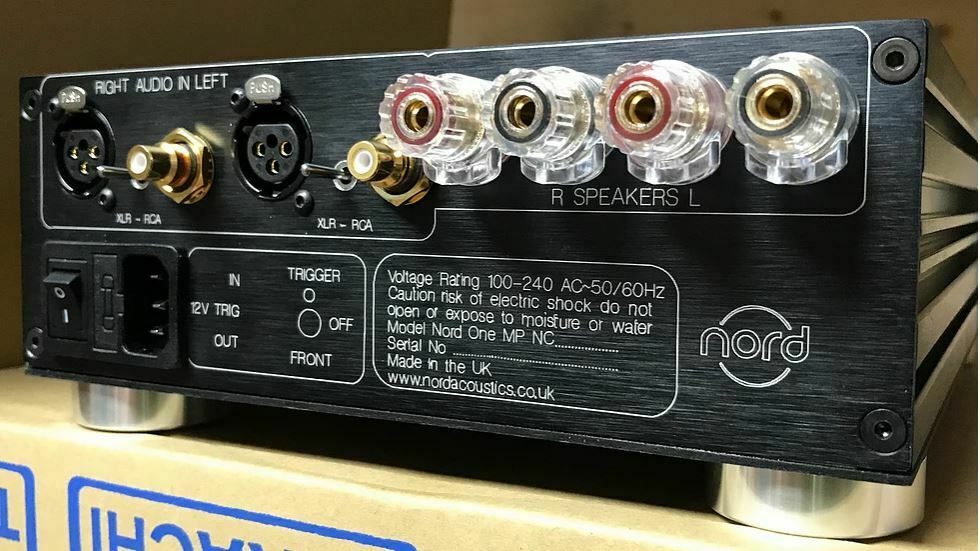 Trigger Switch Option
At the time of purchase there was the option to add a 12 volt trigger switch. A trigger switch is basically a powered switch which operates on a signal from somewhere else. In this case, I would want the power amplifier to switch on when the pre-amplifier, that is my Cambridge Audio CXN, is switched on. The problem here is that the CXN does not have a 12 volt trigger switch output. As well as this minor issue it was a £50 option from Nord, so I didn't choose it when I bought the amp.
Another Solution!
Sometime after purchasing the amplifier, I was randomly reading some stuff on a hi-fi forum where someone was discussing the possibility of running a trigger switch using the power from a USB port. USB operates at 5 volts, so if you had a 5 volt switch, there is no reason why this wouldn't work. Now, the Cambridge Audio CXN has a USB socket in the back for connecting media drives etc. First thing to check was that the CXN USB port powered on and off when the unit is switched in and out of standbay, which thankfully it does. If the USB port remained powered in standby obviously switching wouldn't work.
So then, all I needed was a single channel 5V Relay Module that could activate 240V. This sort of thing is readily available on eBay or Amazon. I would recommend making sure you buy a decent brand like Songle, these are cheap enough so no reason to buy cheaper copies. For anyone not familiar, a relay is a means to use a low voltage to switch a higher powered current/voltage, usually via a solenoid. They are used a lot in cars, for example, to keep all the high amp stuff well away from behind the dash, reducing both the size of wiring and the risk! If you want a good explanation of how a relay works in detail have a look here.
A Few Cheap Parts Later
So, a relay module for less than a fiver, a couple of quid on a 3.5mm mono jack socket and plug plus an old USB cable and I'm all set. At lot less than £50! You can get away with just the bare relay, a module just makes the wiring easier plus you get a light when the switch is active!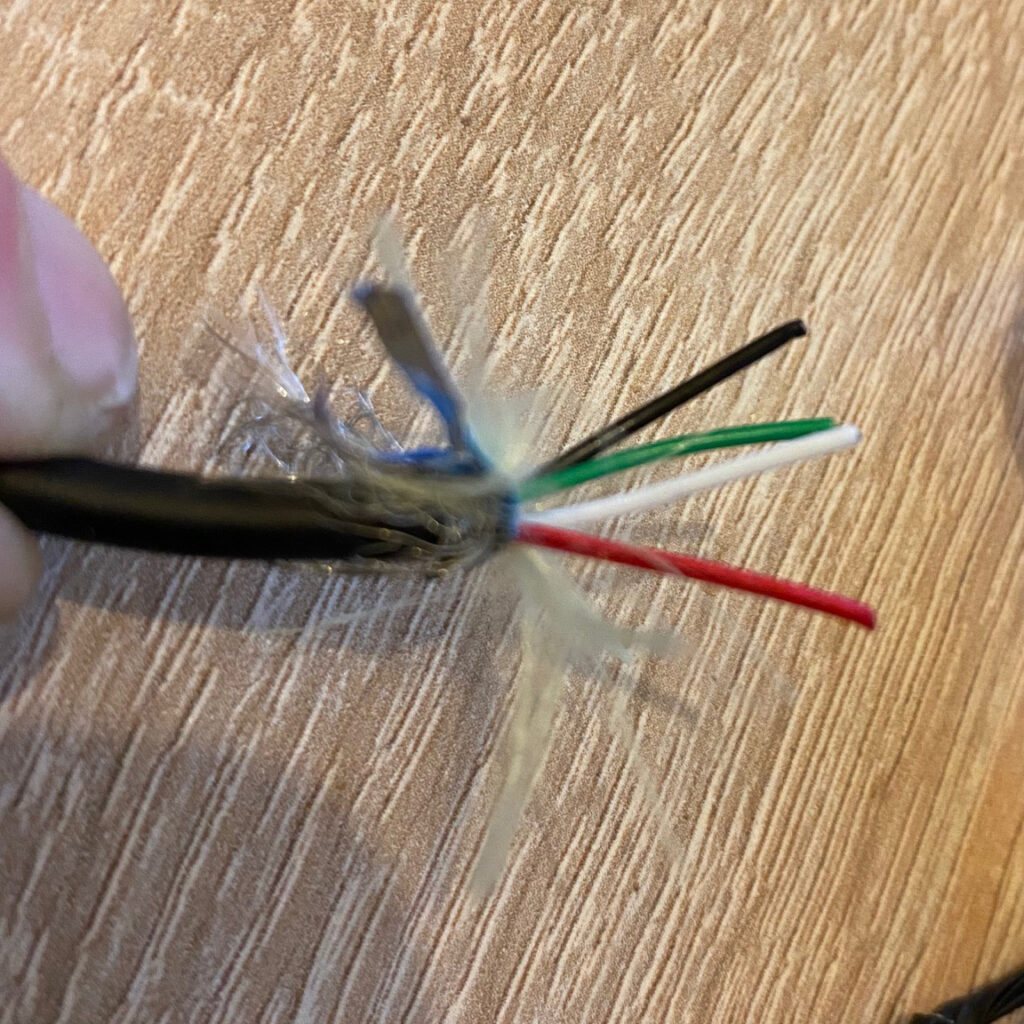 Stripping the end of the USB cable you need to find the red +ve and black -ve wires. Any other wires you need to tape back out of the waya nd make sure they don't touch anything, including each other.
You also need to decide how you are going to run your cable into the amp. The Nord amp is pretty simple and already has a spot where the optional trigger would be. Simply a matter of carefully drilling through the back panel, wiring up a piece of the cut USB cable inside the amp to the 3.5mm mono jack socket and relay.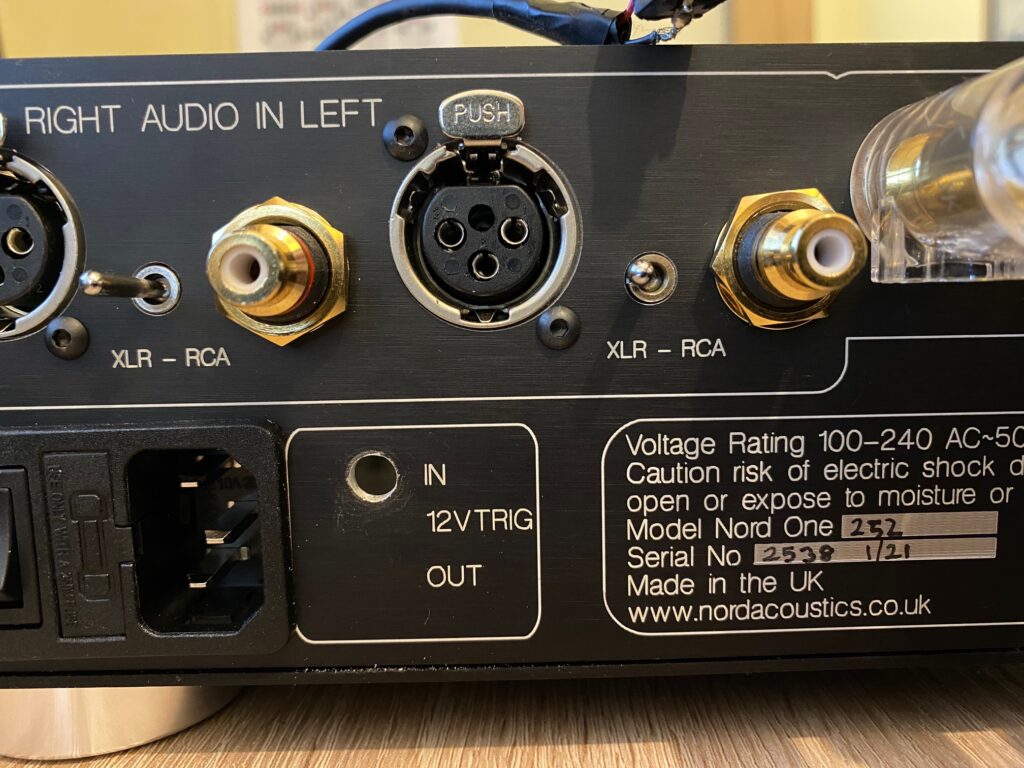 I drilled a hole through the back panel. Fairly easy through aluminium. I could have also just fed the wire through one of the vents in the top panel.
With the hole drilled, I fitted the mono jack socket. It is easier if the socket & Jack are mono as there are only two wires, +ve and -ve/ground. Most you will see for sale are 'stereo' with three conductors. You can use stereo socket and jack, just make sure you make the right cnnections to complete the circuit.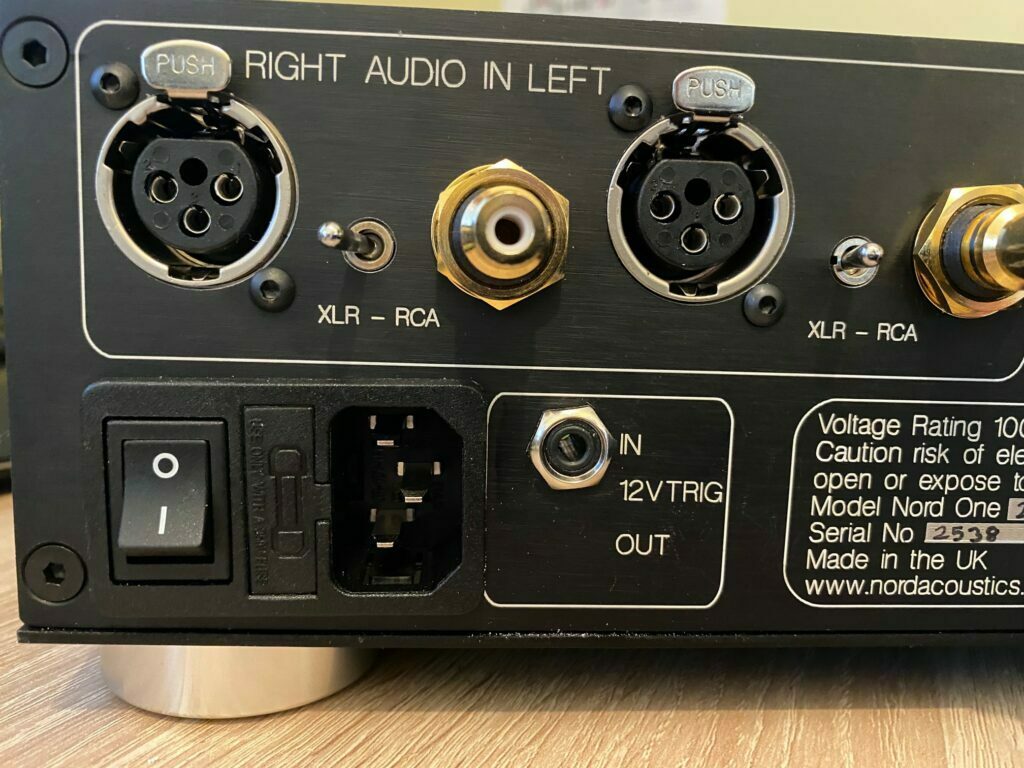 Then fitting a mono 3.5mm jack to the end of USB cable that still has the large USB plug that will fit in the back of the CXN's USB media connection. Another option would have been to run the wire through one of the vents.
This relay is fitted to a PCB and has a -ve, a +ve and a signal (s) terminal on the 5 volt side. I connected the positive wire to +ve and S terminal together as I won't have a separate signal.
The 240v side has a centre common terminal and then an NO (normally open) and NC (normally closed). The positive power wire in the amp needs splitting and connecting to the NO and common terminals.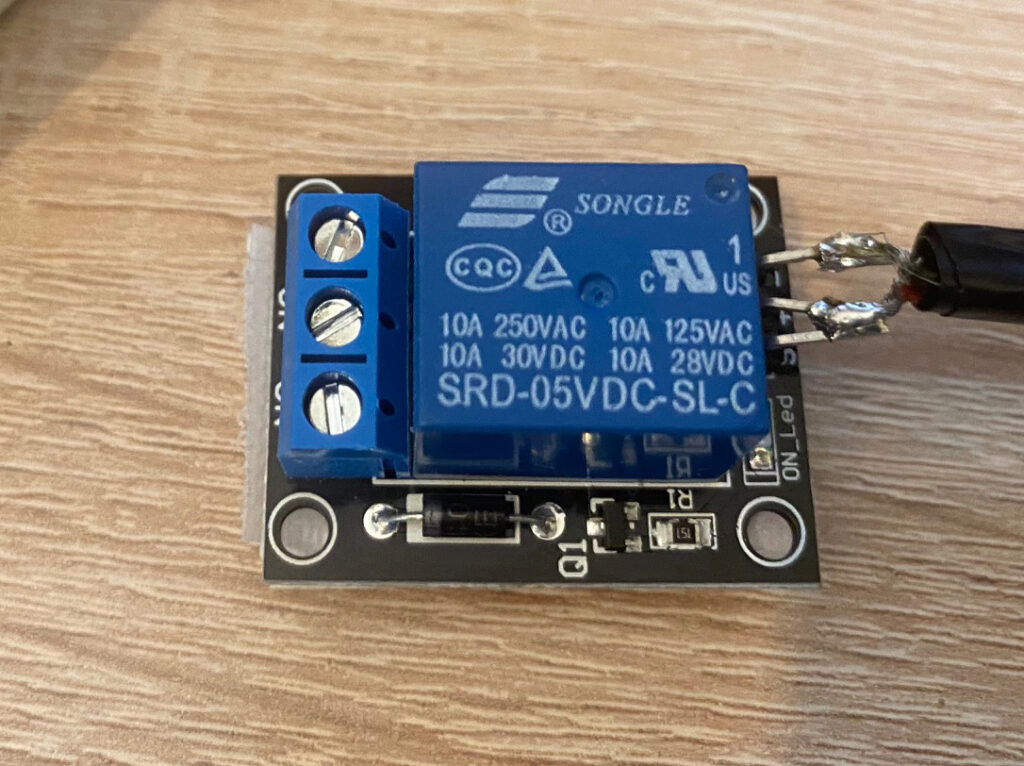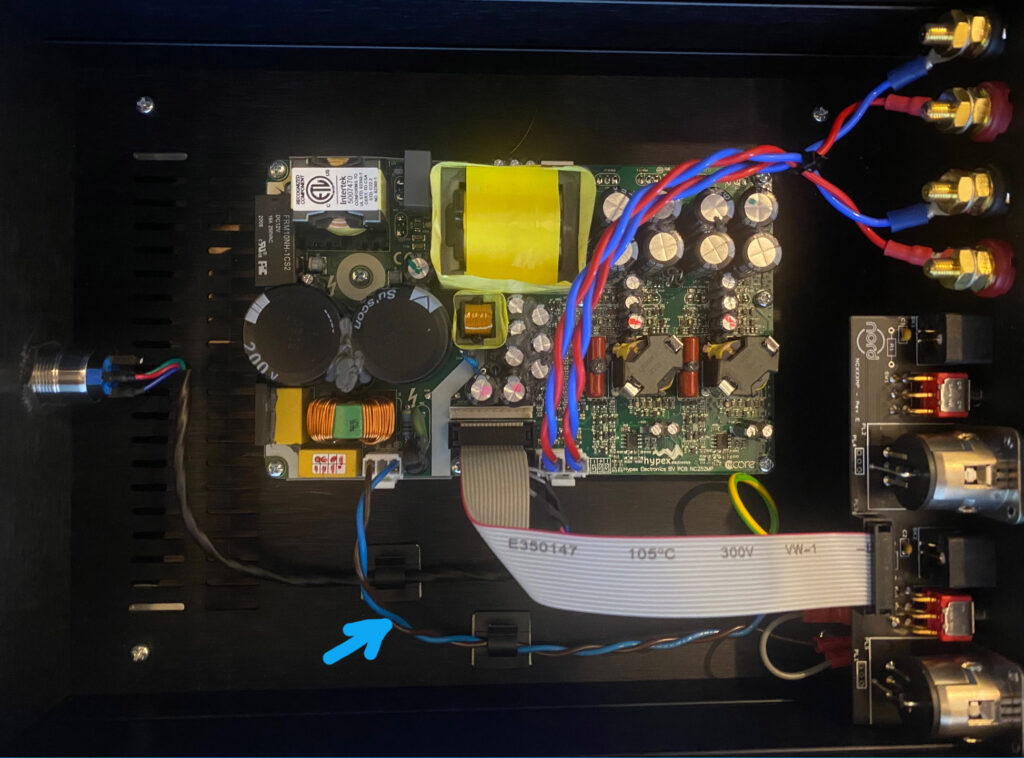 Putting it All Together.
After disconnecting the power plug from the amplifier main board it was simply a matter of untwisting it and cutting the +ve (brown) wire. Stripped the ends and connected up to the Normally Open and Common terminals on the relay board. The switch is now normally open but when a 5 volt supply is applied to the other side via the CXN USB outlet, the switch closes completing the circuit and the amp switches on! Of course, I have to leave the amp rear and front power switches in the on position. Then it's just a matter of sticking the relay somewhere where it isn't going to interfere with anything else. I used a bit of Velcro tape to stick it down as seen below. This particular module has a red LED that lghts up when the switch is active which gives a reassuring glow through the top amp vents.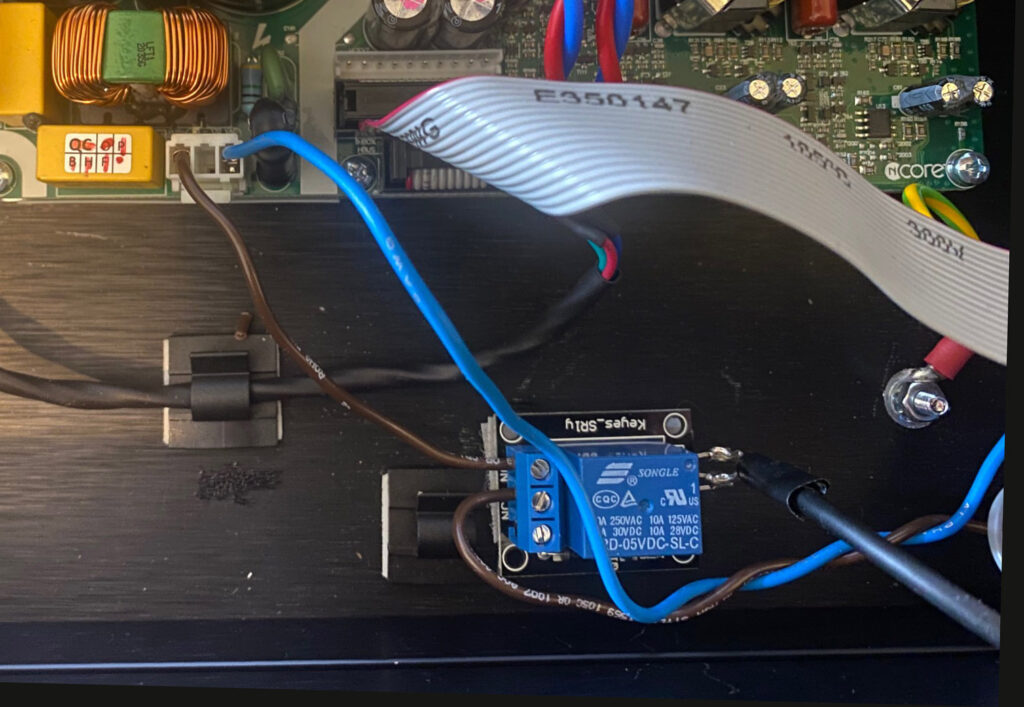 Conclusion
So there you have it, a trigger switch set up for less than a tenner. All you need is an output voltage off some sort from your primary unit, in this case the Cambridge Audio CXN USB connection. It doesn't necessarily have to be called a trigger switch output and it doesn't have to be 12 volts!
Happy to answer any questions below if I can.